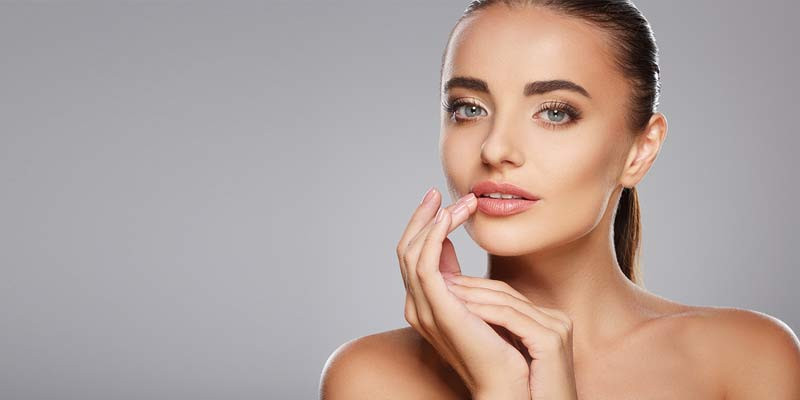 Dermal Filler
Elastin and collagen are body proteins. They maintain the elasticity of skin and firmness of the tissues. As we age, our body stops the production of elastin and collagen, and also existing body collagen begins to break. This results in loss of subcutaneous facial fat and stretching of the skin. The typical signs of aging such as sunken cheeks, thick lines, wrinkles and hollow eyes start appearing. Crow's feet and smile lines also become apparent. Other factors that exacerbate the signs of aging are an unhealthy lifestyle, heredity, and exposure to the sun.
To restore the facial volume, rejuvenate the skin and to remove facial lines dermal fillers are used. They are the least invasive, less expensive and safe. Just one treatment and you will immediately regain your skin's youthful vitality.
What are dermal fillers
Dermal fillers are aesthetic tools that help to manage skin aging. They are gel-like injectables that fill the soft tissue present beneath the skin and improve the appearance of sagging skin, wrinkling and aging. They are ideal for filling facial lines or creases, to enhance facial contours and pumping up lips. They provide a subtle look which can be adjusted to meet your cosmetic needs.
Types Of Dermal Filler
Dermal fillers are derived either from synthetic or natural materials.
Natural Fillers- Natural dermal fillers are derived from animals or human bodies. Two most common natural dermal fillers are:
1. Collagen fibres- Collagen is a natural protein. Collagen dermal fillers are obtained from cow, pig or human. It involves injecting collagen beneath the skin surface to improve the shape and texture. It also plumps the lips, makes scars less noticeable and fills the wrinkles. FDA considers it safe. Also, it is inexpensive and administered merely without anesthesia (Lip treatment being an exception). There is a little possibility that a patient is allergic to collagen and so before the treatment skin test is done. Collagen-based fillers come under the category of temporary fillers.
2. Autologous fat- In this, patient's own body fat cells are surgically removed from the areas that have excessive fat such as butts, thighs, and stomach and then the fat cells are injected to the regions where the dermal filling is needed. As body's own fat cells are used, the chances of rejection or inflammation are very less. In this procedure, healing may take a few weeks.
Synthetic fillers- Synthetic fillers are human-made. Here synthetic materials are used to dispose of deeper wrinkles, enhance jawlines or cheekbones and replace the facial volume. They are more stable and can also be removed when required. Common synthetic dermal fillers are:
1. Natural Fillers- Hyaluronic acid is a polysaccharide. It is naturally found in our skin, synovial fluid, connective tissues and certain cartilages. The hyaluronic dermal filler is derived from purified microbes and then modified so that they will last longer. It is non-immunogenic. If it is obtained from an animal source, it falls under the category of natural filler. It is a temporary filler but has excellent hygroscopic and viscoelastic properties that create volume expansion. It reduces depression and improves the skin contours. It is used to treat:
Acne Scars
Forehead lines
Cheek depressions
Crow's feet
Deep smile lines
Nasolabial furrows
Frown lines
Marionette lines
Redefining lip border
Acne wound or burn scars
Smoker's lines
Worry lines
The duration of the result of hyaluronic acid filler depends on the product used and ranges from several months to 2 years. Research shows that repeated injections of hyaluronic dermal fillers can even stimulate the body to produce collagen, adds support and firmness.
2. Calcium Hydroxyapatite- Calcium hydroxyapatite is naturally found in human bones and teeth. Calcium hydroxyapatite dermal filler is synthetic bone microspheres that are suspended in carboxymethylcellulose carrier gel. It is non-immunogenic and is used to fill moderate to severe creases or deep wrinkles such as frown lines, nasolabial folds and marionette lines. It adds fullness to facial contours and also helps in improving the areas of facial wasting. It is a temporary filler, and the effect lasts for approximately 18 months. Usually, no skin testing is required before injecting it as there is a minimal risk of allergic reaction. Other side effects are also infrequent.
Poly-l-lactic acid- Poly-l-lactic acid filler is semi-permanent. PLLA is also used as bone screws and as absorbable sutures. It is reconstituted sterile water into methylcellulose hydrogel carrier. It is synthetic biodegradable filler that is used to treat thick facial lines, smile lines, deep nasolabial folds and to plump thin lips. For the optimum result PLLA filers are injected in multiple sessions in a month. Several weeks after the initial injection you may need occasional touch up to maintain the effect.
Polymethylmethacrylate or PMMA- Not just as dermal filler but PMMA is also used as intraocular lens implant and bone cement. PMMA dermal filler contains 20 percent PMMA microspores suspended in 80% purified collagen gel. It is semi-permanent and can be removed. It is used to treat crease, deep folds, furrows and wrinkles. It also fills pitted scars and is used to augment lips. It may take about three months to display its full effect.
Dermal fillers can also be categorized into absorbable and non-absorbable fillers.
1. Absorbable or biodegradable fillers- These type of fillers are temporary as they eventually dissipate into the skin. The treatment lasts for not more than 6-12 months. Commonly used absorbable fillers are collagen, hyaluronic acid, poly-l-lactic acid and calcium hydroxylapatite.
2. Non-absorbable or non-biodegradable fillers- These type of fillers are not absorbed by the skin and are permanent. Here the treatment lasts for about 4-6 years. The commonest non-absorbable dermal filler is polymethylmethacrylate.
Causes: Reasons You Should Consider Dermal Fillers:
To plump thin lips
Augment shallow facial contour
Diminish wrinkles, fine line, smile lines and crow's feet
To dispose of thick lines around the brow, mouth, forehead, and eyes.
To improve the appearance of scars and depressions in skin resulted from injury or acne.
Reconstruct facial deformities and inherent imperfections.
Decrease lower lid shadow
You want cheek, lip or jaw-line enhancement.
You are interested in having a minimally invasive procedure to improve facial contours.
Who Are Good Candidates For Dermal Fillers
Individual who is physically fit and healthy
Non-smoker
Who has a positive outlook
A client with a realistic expectation
A client who is committed to maintaining skin health.
FDA recommends following patients to avoid dermal fillers:
With a history of bleeding disorders.
Allergy to cow collagen, eggs or lidocaine.
History of keloid or predilection formation.
Infected or inflamed skin.
If you are pregnant, breastfeeding or have some neurological disorders.
Precautions Before Getting Dermal Fillers Injected
Avoid taking blood-thinning medicines and supplements a couple of weeks before the procedure.
Your doctor will evaluate your health condition and conduct lab test to ensure that you are healthy. If you had any surgery in the past, have an allergy or if you are on certain medications inform your doctor.
Stop smoking a couple of weeks before the procedure.
Keep yourself hydrated.
Avoid suntan.
Avoid bleaching, threading, waxing on the area to be treated from 3 days before the procedure.
Avoid drink alcohol from 24 hours before the treatment.
Stop using anti-aging products three days prior to the procedure.
Photographs are taken to compare with the results.
On the day of surgery clean your face and do not apply any makeup.
Procedure:
The procedure of dermal filler includes following steps:
1. Facial assessment and mapping- Your cosmetic surgeon will evaluate your skin tone, facial appearance and examine the facial areas that are to be enhanced.
On your face strategic points will be marked as filler injection sites.
2. Cleaning the site and anesthetizing- With an antibacterial agent, the injection site is cleaned. A sterile, cold instrument is used to chill the skin, or an anesthetic ointment is used to numb the area to be treated. In some cases, local anesthesia is also applied. However, the injections are easily tolerable.
3. The injection- With the help of a syringe dermal filler of your choice is injected into various areas on the head, face, around eyes, around the lips, along with the jaws and forehead. The location and depth depend on the optimum results and types of filler injections used.
1. Clean up and recovery- Once satisfactory results are deemed the markings are cleaned.
Precautions After Filler Injection
The ice pack is applied to alleviate discomfort and reduce the swelling.
For about 10 hours avoid strenuous activities and drinking alcohol.
Avoid suntan, hot tubs, hot wax, and sauna until swelling subsides completely. Also, avoid winter sports.
Until recovery takes place, avoid too much movement of the treated area. Limit talking and laughing. Better eat soft foods so that you don't need to chew a lot.
Before stepping out in the sun do remember to apply sunscreen.
Avoid makeup for a few days.
What To Expect
The affected area may feel tender for 1-2 days. Also, there may be redness, swelling, itching and bruising especially in sensitive people. Pain is usually tolerable, and no medication is required. The treated area may develop a visible bump. Massage the affected area gently to settle down the bump. The side effects are temporary and disappear in a few days. If the symptoms do not go even after three days, contact your surgeon. The result of dermal filler is immediate but lasts only for about six months to 2 years depending on the type of filler. Also, the outcome depends on the qualification and experience of the injector. To maintain your aesthetic goal repeated session of dermal filler injectables are needed.
COME AS YOU ARE,

LEAVE AS YOU WISH.
Book An Appointment