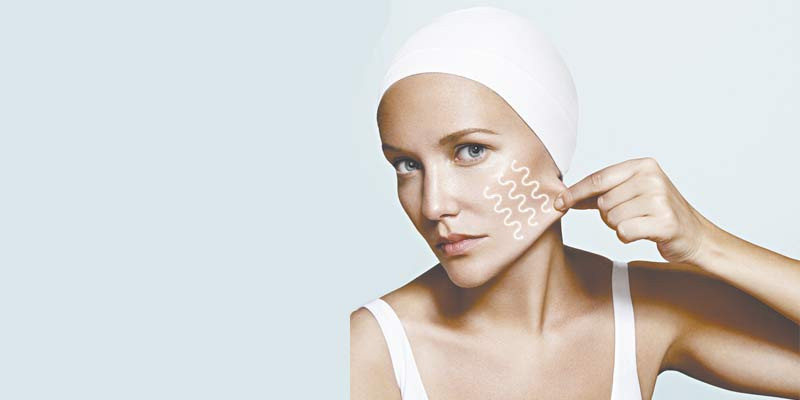 No magic cream can turn the time back and render you youthful, wrinkle-free skin. As your skin ages, skin structures diminish, and there are wrinkles, fine lines and loss of facial volume. But your looks can be improved by 'Nano fat Grafting'.
What Is Nano Fat Grafting
Nano-fat grafting is a cosmetic procedure where fat rich in mesenchymal stem cells are harvested from one part of the body and then placed in the area that needs treatment. It involves a new concept of injecting a bioactive adipose-derived cellular matrix. It uses minimum parcels of the matrix and a stromal vascular fraction that includes growth factors, stem cells and other rejuvenating materials. The fat-derived from mesenchymal cells are critical in tissue regeneration and repair. In opposition to a convection fat grafting method, the Nano fat grafting procedure uses an extra step of liquefying the fat before grafting.
This procedure is commonly used to treat areas with very defined contours such as temples, sunken appearance or dark circles around eyes, fine lines, wrinkles and tear troughs. It can also be used for other facial restoration. Nano fat grafting is of particular value for the face but can also be used to contour and add volume to buttocks and breast.
Nano fat grafting enables the treatment of skinny lines and even thinning skin that is associated with aging. It enables rejuvenation of overlying skin and restores the shape and contour to the treated area. It is a safe and minimally invasive alternative to facial rejuvenation. This procedure uses thin injection for a more fitness effect.
*Nano-fat grafting can also be used in combination with laser skin surfacing and chemical peels.
What is Nano fat
Nano fat grafting is also known as micronized injection or AMI. It is a specific and refined fat transfer technique. Here the minimal amount of fat is removed and injected into the areas needed. The size of the component and fat graft determines whether it is a nano fat or micro fat. The word 'Nano' is used for the tiny particles of fat that are emulsified before applying. The more refined fat graft is known as 'nano-fat'. Nano-fat is emulsified under sterile conditions whereas Micro-fat is subjected to centrifuge treatment.
Causes/ Why to consider Nano Fat grafting
Nano fat grafting is done to treat following signs of aging:
Fine facial lines
Wrinkles
Neck Lines
Rhytides (perioral)
Scars
Stretch marks
Periorbital skin (esp. dark lower eyelids)
Nasolabial Folds (laugh line)
Perioral Lines
Grooves and irregularities that occur in the skin.
Lip Rejuvenation
Areola Rejuvenation
Sun damage in décolletage area.
Who are candidates for Nano-Fat Grafting
A client who is young, but facial contours lack volume such as flat cheeks, hollow under the eye and weak chin.
To reduce pigmentation
To improve the quality of skin
Who have depression is areas of the body that needs to be redefined.
Buttocks and breasts need more volume to appear toned.
You are looking for a non-surgical and more economical way to improve facial contour
A good candidate for Nano-Fat Grafting
You have a positive attitude.
You are expecting realistic results.
You are healthy and not suffering from any chronic medical condition.
Non-smoker
It is mostly suggested for clients above 30 years of age.
*People with anorexia or athletes who lack enough fat for grafting won't qualify as a candidate for fat grafting.
Precaution Before Nano-Fat Grafting
Following steps are taken to prepare yourself for Nano fat grafting:
Avoid taking blood thinning, nonsteroidal anti-inflammatory medications and vitamin supplements that can increase bleeding.
Quick smoking two weeks before the procedure
Keep yourself hydrated.
Arrange someone to drive you back home after surgery and to stay with you for the at least first night.
On the day of the procedure wash your face and do not apply makeup, remove all the jewelry, dentures and contact lenses.
Procedure:
Nano-fat grafting is performed under local anesthesia or oral sedation on an outpatient basis. If you are having other procedures such as facelift at the same time, general anesthesia or deep sedation is given, and the procedure is conducted at an accredited surgery centre.
The process of nano fat grating involves harvesting fat from one part of the body, purifying it and then re-injecting in the area in need of contouring. Following are the steps:
1. Harvesting the fat- First, the donor site is numb with local anesthesia. A small puncture is made with the sterile technique using a blunt needle with a special aspirator. A cannula is inserted that is connected to syringe and fat is carefully extracted by liposuction. Typically several syringes of fat are harvested. Fat aspiration method takes less than 30 minutes. It is a simple, painless procedure. No significant risk is involved.
Fat is collected from the parts of the body with excess fat. Mostly fat is obtained from patient's buttocks, and love handles if collected for the face.
2. Purification- Fat grafts are purified and concentrated by spinning the syringes in a centrifuge. Any oil or fluid is drained. This procedure is done immediately after fat harvesting, and then purified fat is transferred to tiny needles for placement.
3. Placement- The recipient site is numbed, and nano grafts are injected. For this specialized cannula are inserted through tiny needles, and micro-grafts are placed meticulously through multiple passes within multiple tissue level. A line of fatty tissue parcel is deposited in the natural plane of tissues carefully every time the cannula is withdrawn. To avoid any bruising, fat is inserted with the help of blunt cannulas.
Result/ What to expect:
You can go home the same day the procedure is done, but you are advised to wear a compression garment for a first few weeks to minimize swelling and other postoperative risks. The treated area will feel sensitive for a few days. The effect of nano fat grafting is smooth, natural looking and beautiful contour. The result is apparent within few weeks. The activity of underlying stem cells continues to develop and optimum result takes 1-3 months. There may be swelling at the grafted area that goes in a few days. In comparison, to a dermal Tissue Fat Filler, the effect of Nano Fat Grafting lasts longer because it is a living graft. Nano fat grafting stimulates the regenerative facial structures and production of collagen at the molecular level. The result lasts for up to three years but varies from person to person.
Precautions After Nano Fat Grafting
Avoid consuming alcohol for at least 6 hours after the procedure.
Refrain yourself from taking blood-thinning medicines
Avoid smoking
Avoid sun exposure, steam bath, sauna, hot shower and hot yoga for 14 hours after the treatment.
You may apply makeup after the procedure if needed. Still, it is recommended to avoid makeup for two weeks.
Limit salt intake.
Avoid strenuous activities and sport contact
Keep yourself hydrated
Do not scrub the treatment area for a few days.
You may return to work after the procedure still it is advised to take rest for a few days
COME AS YOU ARE,

LEAVE AS YOU WISH.
Book An Appointment