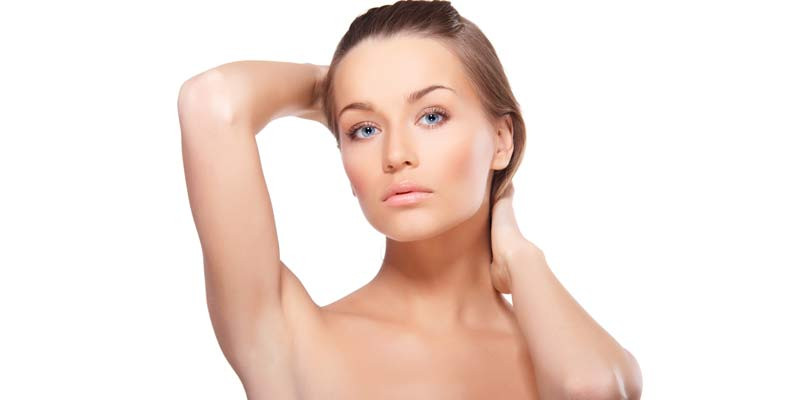 Weight fluctuations, heredity and growing old results in sagging and drooping appearance of arms that cannot be corrected by exercise. Excess of fat and loose skin extending from underarm to elbow results in bat-wing look. To reshape arm, remove excess of fat and tighten the loose skin 'Arm lift' is considered. Many times this procedure is done in combination with liposuction to get beautiful results.
What is Arm Lift?
Arm Lift is a cosmetic procedure to address droopy arms, reshape the region from underarm to the elbow and to give a rejuvenated look. It is a surgical procedure that tightens the underlying supportive tissues, eliminates excess sagging skin that droops downwards and defines arm. It also reduces the localized fat pockets in upper arms.
Types:
Depending on how much fat or skin is to be removed two types of 'Arm lift' aesthetic surgery are done:
Mini Arm Lift- It is also known as Minimal or Partial Incision Arm Lift. Here a small incision is made in the patient's armpit, and then through the incision, the arm is sculpted in little amounts via liposuction. Also, little skin may be removed, and then the arm is wrapped carefully for healing. Mini Arm Lift is for the patients who have lost moderate weight or in whom due to aging there is substantial or minimum muscle tissue loss. It treats mild skin laxity.
Upper Arm Lift- It is also known as brachioplasty. Here incision is made near the elbow. The incision runs along the bottom of the arm to the body. Through the incision, the excess of fat is sucked out via liposuction. The excess of skin is trimmed, and the rest of the skin is secured in place for healing. It is ideal to remove jiggles and loose skin that hangs below the upper arm when the arm is held out. Usually, this happens after a drastic weight loss following a weight loss surgery or lifestyle changes. It is also recommended for patients with significant tissue loss due to aging.
Causes: Why Should You Consider Arm Lift
Below are the reasons to consider arm lift surgery:
To reduce upper arm sagging or laxity due to aging
Your upper arm appears full and loose due to excess fat and skin.
You have lost weight but now left with excess underarm skin that won't improve via exercise.
You have an average weight, but underarm laxity has marred your shape.
You have significant fold over the arms.
You want to look better in fitted clothes
To have a better self-image and increase your self-confidence
You want to wear sleeveless and short sleeves without being Conscious.
Good Candidates For Arm Lift
A client with a stable weight
A client who is not overweight
Adults of all age group can qualify as a candidate for an arm lift, but you should have good skin elasticity.
Non-smoker
You are not taking anti-inflammatory drugs
You are healthy and do not have any medical condition that will increase surgery risk or delay healing.
You are committed to a healthy lifestyle and diet.
You have a positive attitude and realistic expectation.
Treatments Available/Solution
Depending on the skin quality and amount of excess skin or fat your surgeon helps you choose the right arm lift solution. Following are your options:
Liposuction- If your skin is elastic enough to be able to shrink around the leftover tissues after the fat removal you can opt liposuction. It can be used in combination with a standard brachioplasty procedure to remove excess fat. As the incision made is tiny the scar is also too small. Most of the scars fade over time and are barely seen.
Limited-incision brachioplasty- If excess skin hangs close to the armpit the surgeon pulls and tucks the excess of skin into the armpit. This procedure is best for you if you have a crepe and loose skin in the lower, inner arm region without an excess of fat. In this procedure, the scars will be limited to underarms.
Standard brachioplasty- It opts when an excess of skin from the armpit extends like bat's wing to the elbow. In standard brachioplasty complete arm flab is removed. In this procedure, the incision made is placed inside the arm and extends from axilla to above the elbow.
Extended Brachioplasty- It is almost similar to standard Brachioplasty. The only difference is that the incision runs down along the arm to the body and sometimes along the chest side, so that lose fatty tissues and skin under the arm area along the side chest wall can also be included. It is commonly done in an individual with a massive weight loss
Precautions Before Arm Lift
Pre-operative instructions to prepare you for Arm Lift are as follows:
If you are overweight, then lose weight by making lifestyle changes to achieve good results and minimize the chances of complications.
Stop smoking from 4 weeks before the procedure
Stop taking blood thinning medications, supplements and herbs from 3-4 weeks before the surgery
Stay hydrated despite the surgery you are planning to undergo.
Do not eat or drink anything from 8 hours before the operation.
On the day procedure is to be done, do not wear any jewelry, makeup or even contact lenses.
On the day of 'Arm Lift', wear loose clothes.
If surgery is to be done on outpatient basis arrange someone to drive you back home and stay with you for the first night.
Procedure
Arm Lift surgery is done in following steps:
Anesthesia- For patient's comfort general anesthesia, or intravenous sedation is given. Your doctor, after evaluating your health condition and depending on the extent of surgery will recommend what is best for you.
Incision- The length of the incision depends on the extent and pattern of 'Arm lift surgery' which in turn depends on the location and amount of excess skin and fatty tissue. The incision is made on the back of the arm, or on inside.
Removal of excess fat and skin- Through the incision, the excess of fat is either removed through liposuction or excised. After this the supportive tissue present underneath is tightened and reshaped with the help of internal suture. This is followed by trimming or removing excess skin and smoothing rest of the skin to contour your arm.
The closing of the incision- Incisions are closed with absorbable sutures. If non-absorbable sutures are applied, they are removed in 1-2 weeks.
Precaution After Arm Lift surgery
Carefully follow the instructions given below for a comfortable recovery.
For first few hours you will be on fluids. Advance to small light meals slowly. Eat high protein and low sodium diet for the first couple of days.
Better get out of your bed gently. First, sit with your legs hanging over the edge of chair or bed for a few minutes and then stand.
Walk slowly many times in a day but do not overexert yourself. You need a steady rest and reduced activities.
To ease mild to moderate pain, painkillers are given.
Avoid activities that raise your BP for the first week.
Make sure that the incisions are not subjected to abrasion, motion or excessive force during the recovery period.
Avoid strenuous exercises that stress your arms.
Avoid lifting heavy weight and contact sports
While resting keep your arms elevated with the help of pillows. This will reduce discomfort and swelling
Wear front open clothes and slip on shoes during the recovery period.
What To Expect/ Results?
Just after the operation you will be taken to the recovery room and monitored closely. Surgical drains will be placed to remove excess of blood and fluid that accumulates within the incisions. To the incisions, sterile dressings will be applied. You will be given compression garments to wear to decrease post-operative swelling, bruising and to promote healing. You may leave the hospital on the day of surgery. For the first 24 hours, your arms will be wrapped from wrist to armpits. The results are apparent immediately after the procedure. However, there may be swelling and bruising that will subside in a few days. You may start cardiovascular activities after a month following the surgery. You may resume your regular activities after six weeks of arm lift surgery.
Arm lift gives a tighter and smoother contour to your arms. The result lasts for long, but you need to maintain a stable weight to maintain the outcome. There may be natural looseness with aging up to some extent as no cosmetic procedure can stop aging.
COME AS YOU ARE,

LEAVE AS YOU WISH.
Book An Appointment