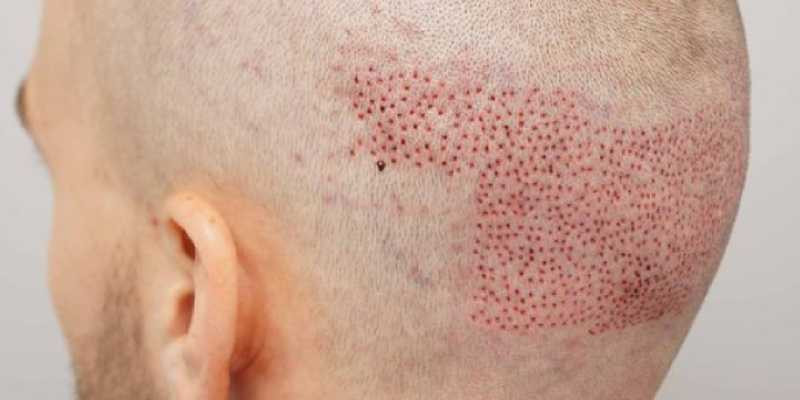 There are many causes of hair thinning or baldness such as aging, vitamin deficiency, poor diet, certain medications, illness, stress, family history of baldness, hormonal changes, excessive wearing of helmet or hat and dandruff. Hair loss and baldness affects your appearance and hampers your confidence. In many cases, hair loss problem is reversible and curable. But in some cases, there is permanent damage to scalp or follicles, and hair growth becomes impossible. For such cases, hair transplant surgery is a gift of modern science that has made hair restoration possible.
What Is A Hair Transplant Surgery?
A hair transplant is a dermatological procedure done to restore hair to the scalp area that has thin hair or baldness.
Types:
1. FUT or Follicular Unit Hair Transplantation- FUT is one of the most successful and popular hair transplantation method. Your hair looks natural and also functions naturally. This procedure uses high-resolution stereomicroscopes, and thus reduces the risk of hair damage that is common when the transplant is done under naked eyes.
In this procedure, the hair is transplanted in naturally occurring follicular units. From the hair-bearing donor site; a donor strip is removed and then dissected into tiny follicular units. The next step involves the harvesting of small follicular units to the balding scalp area in such a manner that they appear similar to natural follicular units.
However, in FUT the extraction from the donor site may leave a linear scar.
2. FUE or Follicular Hair Extraction- FUE is quite similar but more advanced in comparison to FUT. In this method, Individual hair follicles are extracted from the donor site and then grafted to the balding area. There is least damage to the donor area and less bleeding. FUE renders a natural appearance all over the scalp. It is a minimally invasive method, and there is no scarring. It offers the client, the flexibility regarding the type of hairstyle he/she desires.
Reasons To Have A Hair Transplant Surgery
Candidates with noticeable hair loss but have good quality hair at the back and sides of the scalp.
A man with male pattern baldness
Females with hair thinning
A client who has lost hair from scalp injury or burn
Good Candidates For Hair Transplant Surgery
Candidate with healthy hair growth at sides and back of scalp so that these areas can serve as donor sites.
Clients with realistic expectations.
Non-smoker
Who Are Not An Ideal Candidate For A Hair Transplant
A client with very little hair
Woman with hair loss in a wide-spread pattern throughout the scalp.
People who tend to get keloid formation after surgery or injury.
Hair loss due to chemotherapy or certain medications.
Clients who do not have enough donor hair sites.
*Hair transplant result is also affected by hair quality factors such as texture, color, curliness and waviness of hair.
Treatments available/Solution
1. Flap surgery- It involves moving hair-bearing scalp tissue to the area with no hair. This procedure has been used for 20 years and quickly covers large bald areas. The goal and need of the patient decide the flap size. Just a single flap can do the work of more than 350 punch grafts. This procedure involves the cutting of a section of bald scalp. The flap of the hair-bearing scalp area is lifted off while it is still attached to one end. Then the flap is brought to the new position and sewn. The remaining is tethered to the original blood supply. As healing takes place the scar is obscured by the hair that regrows at the incision ends. For the better crown coverage flap technique is done in combination with scalp reduction. To provide better frontal coverage, it is combined with tissue expansion.
2. Scalp reduction- This surgery involves surgical removal of bald areas and advancing the hair-bearing areas of scalp together. Many a time this technique is referred to as advanced flap surgery. In this procedure, the sections of hair-bearing scalp is advanced or pulled forward to fill the bald crown. It is usually used in covering back, and top of the head but is of no use in concealing front hairline. This method involves the injection of local anesthesia to the scalp and then the bald scalp segment is removed. The pattern of the section that is to be removed depends on the patient's goal and need. For example, if significant amount of coverage has to be done, then the portion is removed in inverted Y shape pattern. Excision may also be done in pointed oval, U or some other shapes. After removal is done the skin that surrounds the cut area is pulled, and the hair-bearing scalp section is brought together and stitched. After this procedure, you may feel occasional pain, and strong tugged feeling at the treated site that fades with time.
3. Tissue expansion- This procedure allows the development of hair-bearing scalp to cover the bald area. This procedure is mostly used to repair injuries and burn wound on the scalp with significant skin loss along with hair loss. Tissue expansion yields dramatic results in relatively short duration. In this technique tissue expander is inserted beneath the hair-bearing area of the scalp that lies next to the bald area. The tissue expander is a balloon-like a device and is inflated over the period of weeks with salt water. This causes the skin to expand, and new skin cells are grown. After several weeks there is bulging beneath the hair-bearing area of the scalp and when the skin is stretched enough the surgery is performed to expand the skin and cover the adjacent bald area.
4. Hair transplantation- Here a tiny piece of hair-bearing scalp from the donor site (usually side or back of the scalp) is removed and relocated to the area where there is thinning of scalp or baldness. A hair transplant may be done alone or in combination with other hair replacement surgeries.
For the patients who desire dramatic changes Tissue expansion, Flaps and Scalp reduction procedures are considered appropriate. Those who wish a modest change are recommended hair transplantation techniques such as mini-graft, punch grafts, slit graft, strip graft and micrograft.
Precautions Before Hair Transplant
A week before the surgery stop consuming alcohol and nicotine products.
Your scalp should not be sunburned so cover your scalp with hat or scarf before stepping out in the sun.
Stop smoking a week before the procedure.
Your doctor may prescribe you to start consuming 1g vitamin C, three times in a day from 14 days before the procedure to accelerate the healing.
Wash your hair with a regular shampoo on the day of hair transplant. Avoid use of any hair gel, spray other lotion.
Avoid taking anti-inflammatory drugs and herbs that may increase the risk of bleeding from a week before the surgery.
The hair transplant surgery is carried out in a clean and sanitized procedure room. All the surgical instruments to be used are sterilized, and the patient is given disposable clothes to wear.
Procedure
The procedure of hair transplant includes the removal of small punch grafts from the donor hair-bearing site and then cut into the small pieces to be used as a graft. Then the grafts are relocated to the thinning or bald area of the scalp. The grafts created differs in following shapes and sizes:
1. Round grafts- It is the first type of graft that was used in hair transplantation. A large circular graft has 20 or more hair and is harvested with various sized punches.
2. Mini-graft- There are many variations of mini-graft that are derived from round grafts. Small mini graft contains 2-4 hair, and large mini graft includes 5-6 hair per graft.
3. Micrografts- Micrografts contains 1-2 hair in a single graft.
4. Multi-unit grafts- This term has replaced older mini graft and includes 2 or more follicular units in just a single graft. MUG's contains 2-6 follicular units/graft.
5. Multi-unit grafting- These grafts can be placed into a round and small slots or holes.
6. Slit graft- Here, the hair from the donor, site is obtained directly or is sectioned from a more extensive round graft and then inserted into the slit that is made in the scalp by the tip of a scalpel blade. It contains 4-10 hair/graft.
7. Strip graft- Strip graft contains about 30-40 hair per graft and are thin and long.
Before the surgery, the donor site is trimmed so that access and removal of the graft is easy. A particular tube-like instrument that is made up of sharp carbon steel is used for punch grafts. This instrument punches round grafts from the donor site and replaces the site (usually the front line) that is to be covered. In other types of graft, a scalpel is used to remove the small hair-bearing section of the donor site. The section is then further divided into tiny sections and transplanted to slits or holes within the bald or hair thinning area of the scalp.
While taking the graft, a saline solution is injected periodically to maintain the skin strength. The donor slits or holes are then closed with the sutures. If punch grafts are done, a single stitch is required. Other types of grafts result in a straight line and a small scar. Surrounding hair conceals the stitches very well.
A hair transplant surgery is done in several sessions for satisfactory results. Between each session, several months of healing intervals are recommended. The final result may take up to two years. The grafts are usually placed one-eights inches apart to maintain a healthy scalp circulation. In later sessions, new grafts fill the spaces between the plugs.
Result/ What To Expect?
The extent of the surgery and complexity decides how you feel after a hair transplant. Scalp soreness, tightness and throbbing is typical after the scalp surgery. To ease your discomfort, your doctor will prescribe pain medications. Bandages used will be removed the other day. Stitches are removed in 7-10 days. Antibiotics are prescribed to reduce the risk of infection. 2 or 3 weeks after the procedure the transplanted hair may fall to make a new hair growth. In 6-9 months you will see 60 percent new hair growth. To improve the hair growth and slow hair fall, hair growth medications are prescribed by your doctor. Hair growth will continue in the transplanted area of the scalp. The quality of new hair depends on scalp laxity, the density of the follicles, hair calibre and hair curl. The non-treated areas may experience hair loss.
During follow up, after the incision heals you may need touch-ups to create a natural look. Touch up includes blending or filling-in of the hairline using mini grafts, slit grafts or micro-grafts.
Precautions After The Hair Transplant
Below are the following precautions you need to take after a hair transplant is done:
Avoid alcohol consumption for three days after the surgery
Avoid smoking for a week post surgery
Sleep in a head elevated position with the help of pillows.
Do not take blood-thinning medicines for first 48 hours.
Avoid wearing a tight hat that could rub the graft.
Prefer wearing button-down clothes for a few weeks post-surgery.
Avoid contact sports.
Avoid sleeping on your face.
Avoid strenuous activities three weeks post surgery.
Avoid sex for two days after hair transplant
Shampoo your scalp gently on the fourth day following the hair restoration procedure. Resume to regular shampooing and hair care after 2-3 weeks.
Before stepping out in the sun cover your head with scarf or hat for first three weeks.
Do not use any medicated shampoo or ointment without consulting your surgeon.
COME AS YOU ARE,

LEAVE AS YOU WISH.
Book An Appointment